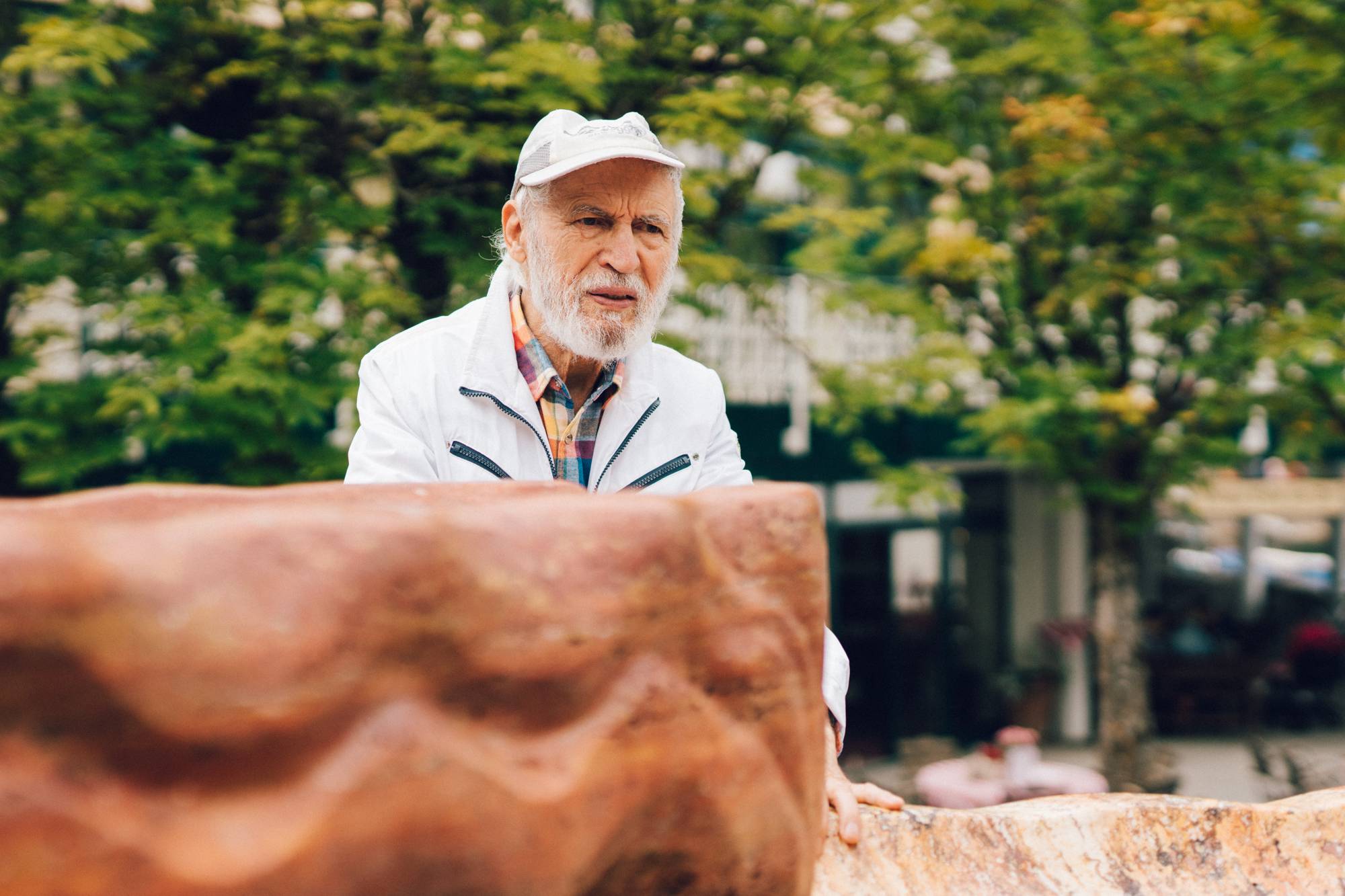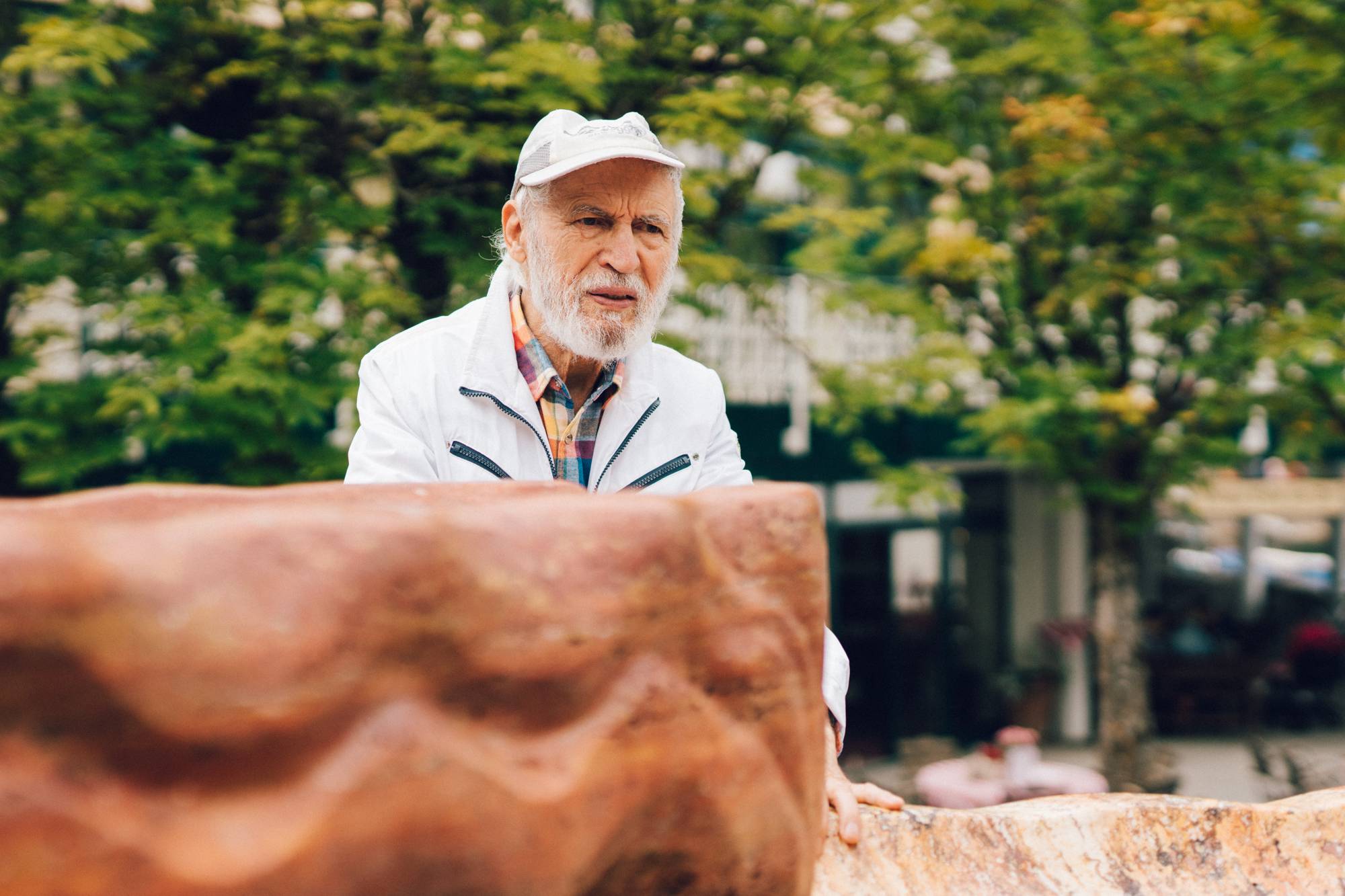 The Austrian Fountain
Prof. Hans Muhr and the fountain sculpture of Hundertwasser
The Austrian Fountain
At one of the most beautiful places of Zell am See, a unique fountain sculpture can be found. The 'Austrian fountain', right at the lakeside next to the Grand Hotel, was designed by the famous painter Friedensreich Hundertwasser. The artistic realization of this project was assigned to Hans Muhr, an expert constructor of water sculptures and a close friend of Hundertwasser.
The project started in 1996 thanks to the initiative of the hotelier Dr. Wilfried Holleis from Zell. For him, the fountain was a lot more than simply a signature project.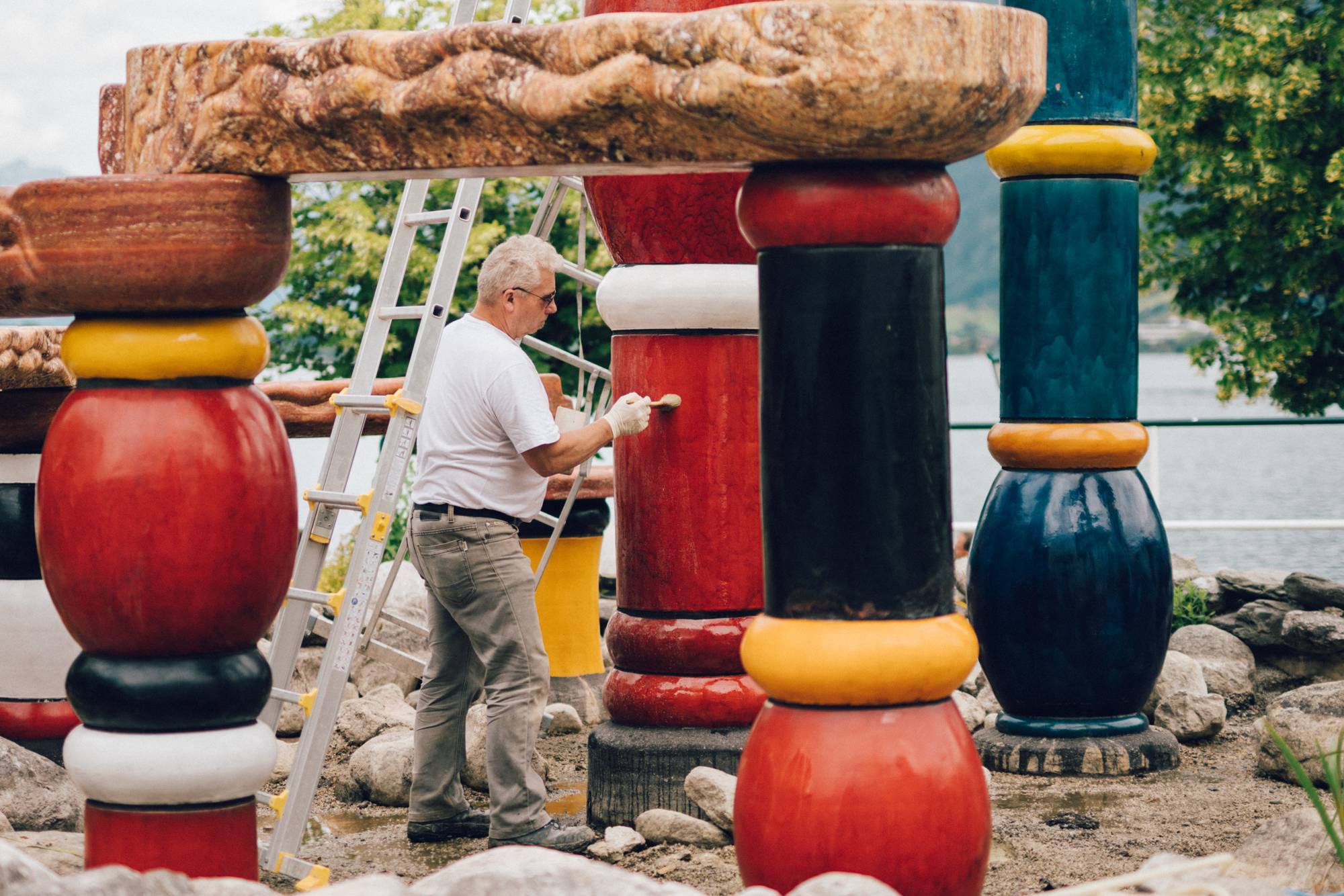 Especially after Hundertwasser's death in 2000, as Hans Muhr emphasizes, the hotelier lent his support with important ideas and made a significant contribution to the successful realization of this project!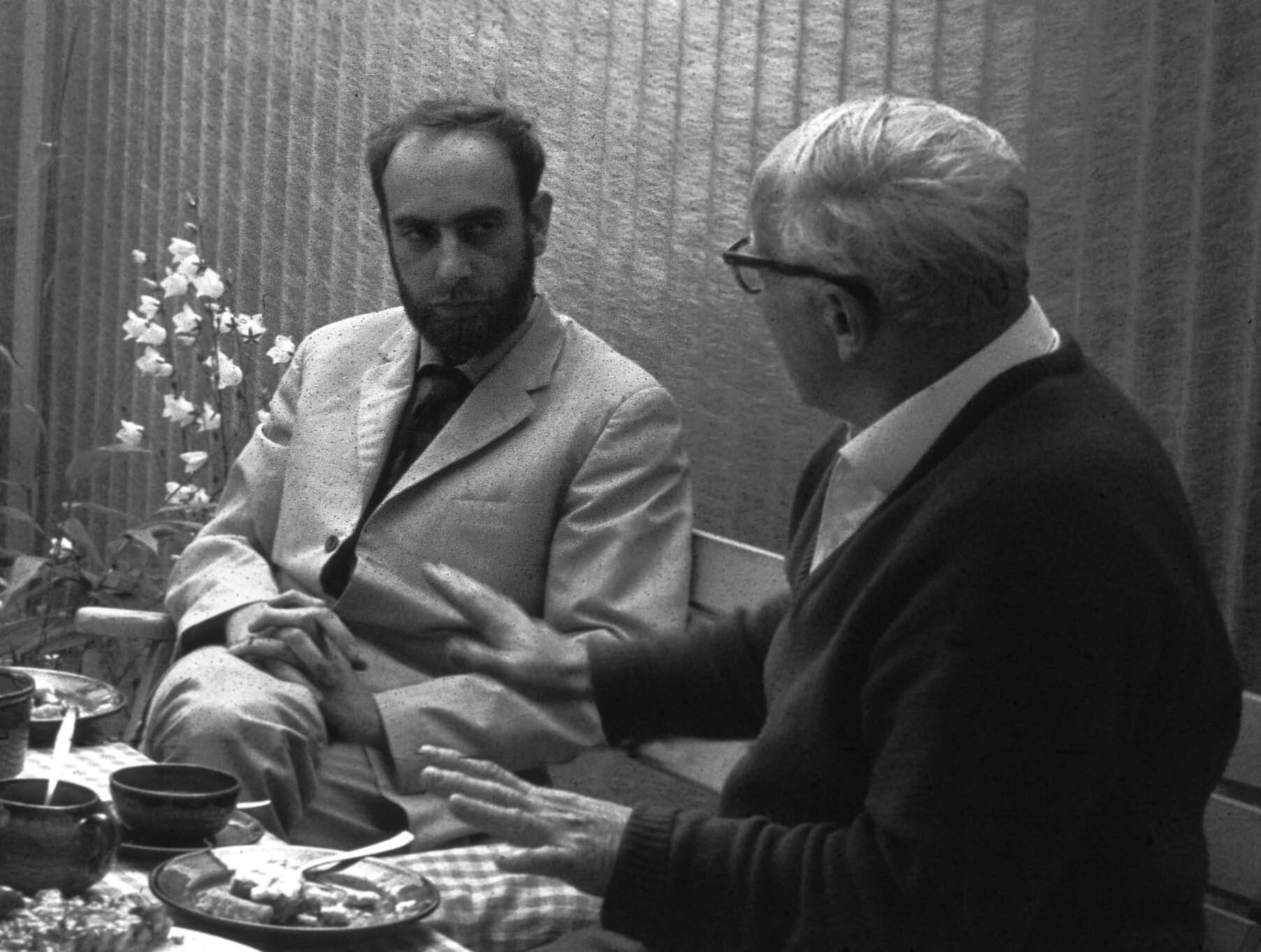 Water as a connecting element
The Austrian Fountain stages the element water in many facets: The moving water surfaces of the small streams and the softly rushing waterfalls ionize the square, creating a refreshing and healing climate for humans and animals, an oasis for all guests and visitors. The nine columns represent the nine federal states of Austria and their colors the respective federal coat of arms. The strong colors ‒ a signature feature of the artist Hundertwasser ‒ add to the colors of the surrounding nature: the gentle green of the woods, the blue in the sky and their reflections in the water of the lake. The water flows over stone elements from one column to the next. It is designed as a mean of communication, an elixir of life and as an element of nature, not only of the region Zell am See but Austria as a whole.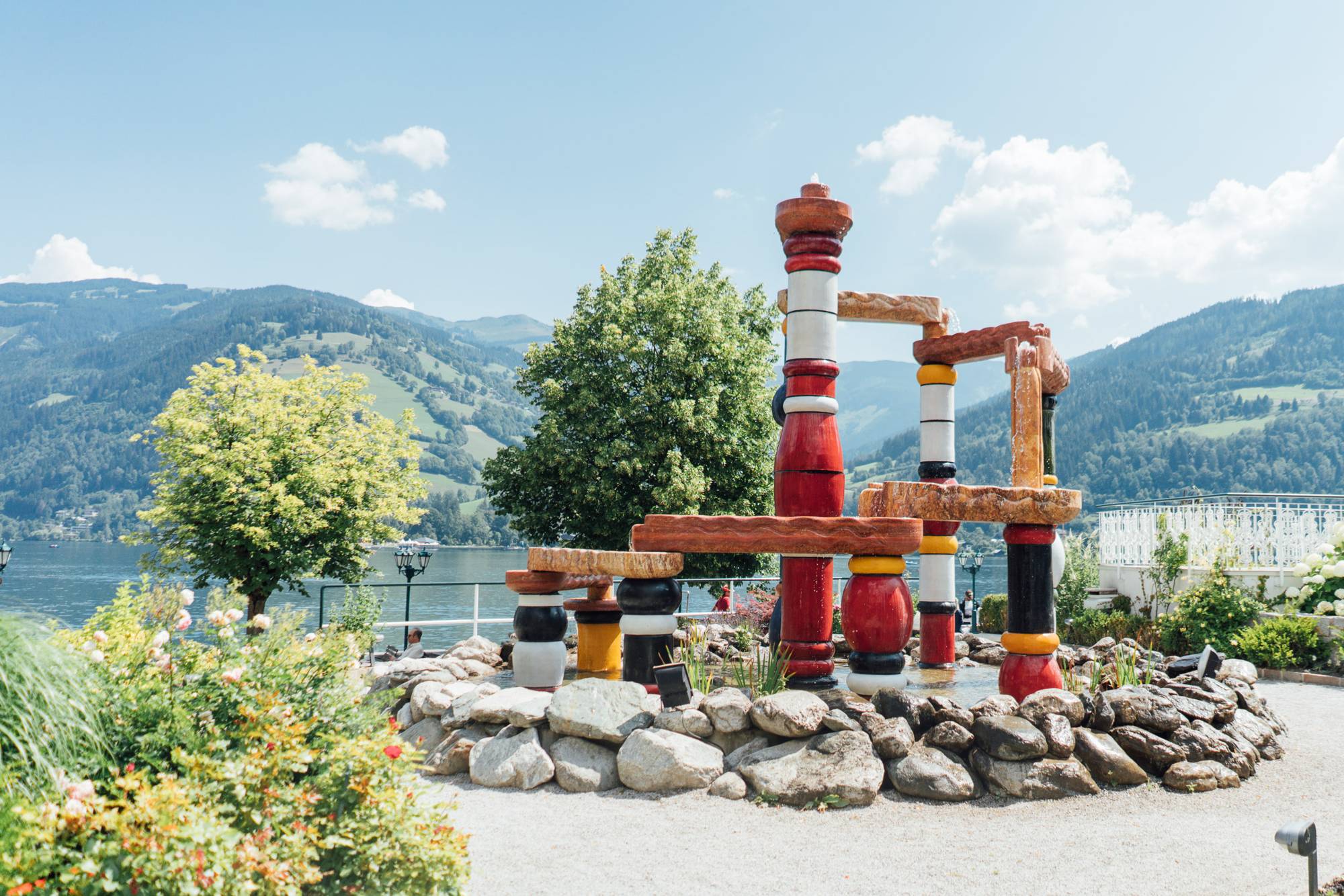 Fascination water
For the sculptor Hans Muhr, working with water is both a challenge and a fascination. It is impossible to form water; it is always in motion and interacts with the air in its environment. This is also the special charm of the fluid element that cannot be fastened ‒ it is the connection of communication and life!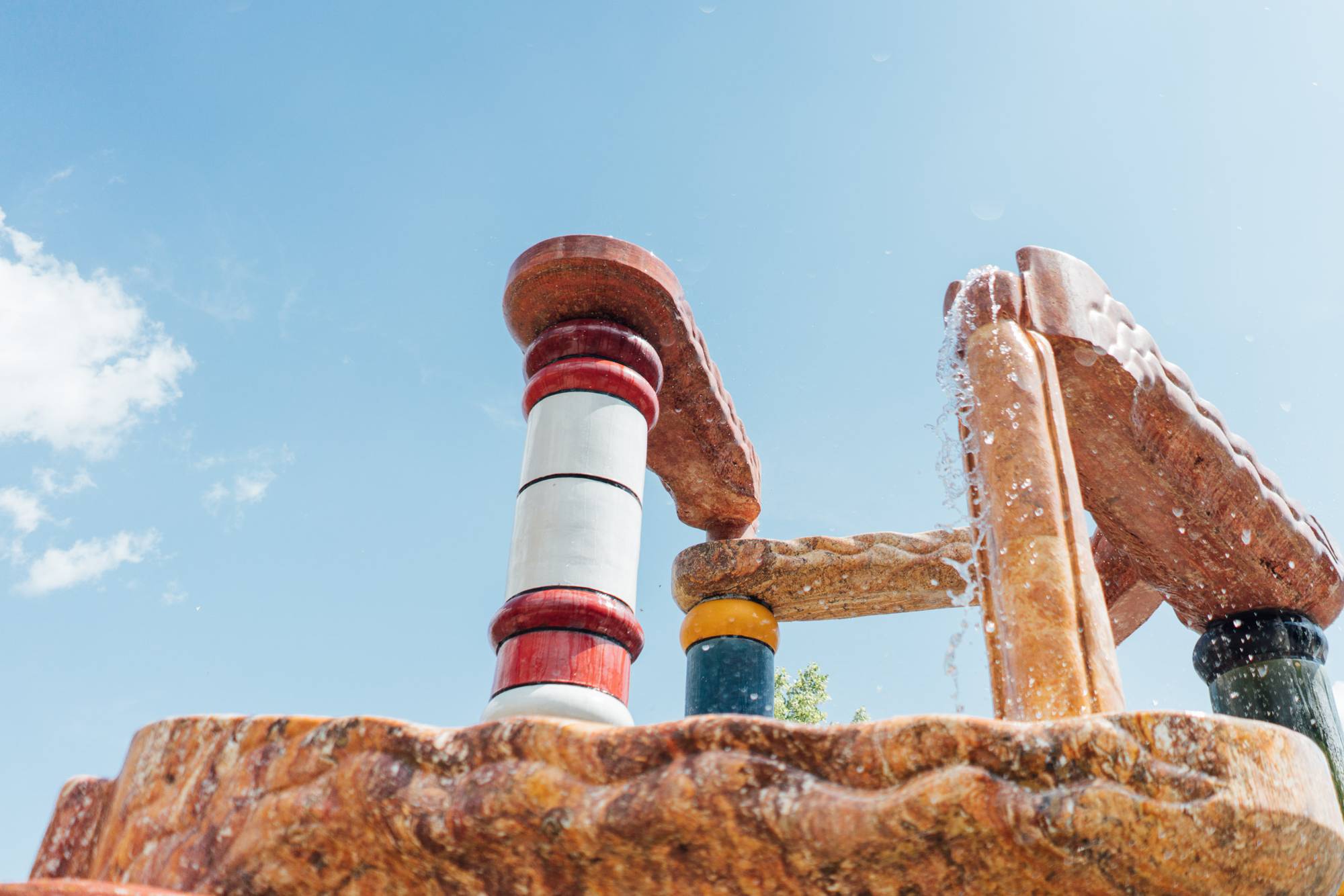 Hans Muhr discovered his enthusiasm for water already in his childhood and he shared the fascination with his friend Friedensreich Hundertwasser. With his water sculptures, Hans Muhr wants to bring the great value of water to the fore. Mindfulness of this precious commodity stands as an idea behind each of its fountain sculptures. The water is the most important health element for Hans Muhr in addition to his energy rocks. His works can be found worldwide, but one of his most beautiful is on the shores of Lake Zell: the Austria Fountain. He delights with his playful dominance, which fits elegantly into the already beautiful landscape.